"You must be the change you wish to see in the world." –Mahatma Gandhi
The Drew Chapin Memorial Scholarship for Change memorializes Drew Chapin, now deceased, a 2003 graduate of GCHS who lived his life consciously and was committed to family, the pursuit of knowledge, respect for all persons and cultures, peace, and celebrating life. The scholarship honors Grayslake Central High students who are knowledgeable about national and international social problems and have a personal philosophy about what actions they might take to improve some aspect of our world. The recipient is someone who brings humor, energy, hope and compassion to everyday projects and every human interaction. Recipients receive a $2,000 stipend.
GCHS seniors interested in applying for the scholarship can pick up an application form in the GCHS Counseling office.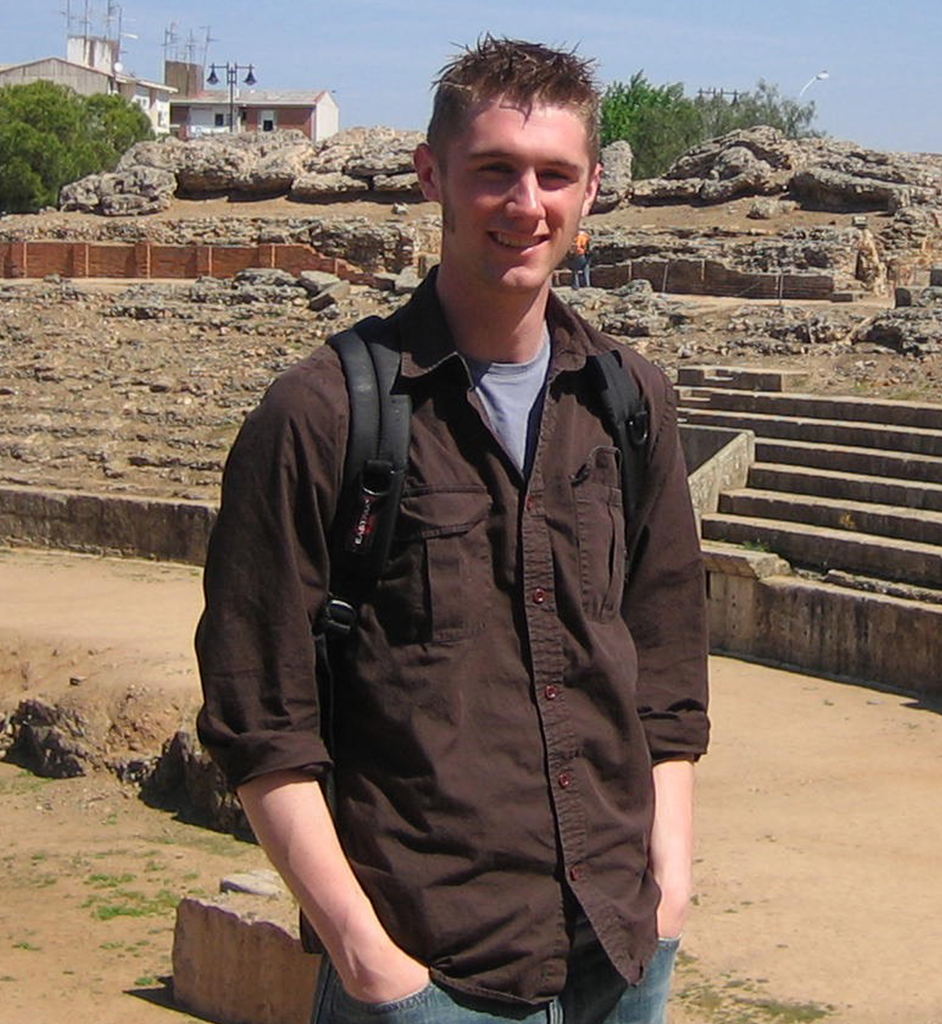 Drew Chapin traveling in Turkey, summer, 2004.
Meet our 2021 Scholarship Recipient
Lillian Bak
Dedicated to human equality through understanding other cultures, intent on advancing peace, and deeply devoted to her family, Lillian Bak is this year's recipient of the Drew Chapin Scholarship.
While at Grayslake Central High School, Lillian participated in a wide range of activities including the following: sports, Key Club and Public Service Practicum—both community service groups, and Best Buddies-a group that supports students with disabilities. She was graduated magna cum laude and received awards from both the Spanish and National Honors Societies.
Ms. Bak plans to major in business and sociology at the University of Illinois Urbana-Champaign. Her ultimate goal is to attend law school and pursue a career as a Human Rights attorney.
Choose one of three ways to donate to the Drew Chapin Scholarship Fund:
Pay Online
Click here to use your credit card to donate directly to the Drew Chapin Scholarship Fund through the Grayslake Central High School (GCHS) District 127 online store. Your contribution will go directly into the GCHS Drew Chapin Scholarship Fund account.
Send a Check
Write a check to Drew Chapin Scholarship Fund and mail it to…
Grayslake Community High School District Business Office
400 N Lake St Grayslake, IL 60030-1499
c/o Drew Chapin Scholarship Fund
Bring a Check
Make a check out to Drew Chapin Scholarship Fund and bring it to the next Memorial Jazz Jam Concert.  We also accept cash.
---
Besides paying tribute to Drew Chapin, proceeds from this fund-raising effort go to the Drew Chapin Scholarship for Change which annually provides $2,000 scholarships to Grayslake Central High School seniors.
Who was Drew Chapin? (a.k.a. Andrew, Andres Chapin)
Drew Chapin spent all his school years in Grayslake, graduating among lifelong friends in 2003. Known as Mr. Hustle to his soccer and basketball teammates, Drew attacked music, acting, academics, service projects, sports, and goofing off with equal intensity.
Drew lived his life consciously and in the present moment. He believed strongly that "less was more," and was committed to the following fundamentals of living:
Maintaining strong relationships with friends and family

The ruthless pursuit of knowledge

Respecting the inherent worth and dignity of every person and every culture

Participating in non-violent activities promoting issues of peace and social justice

Choosing a healthy, low-impact lifestyle

Celebrating life through dance, music, and being barefoot as much as possible.
The recipient of a full-tuition academic scholarship to Hanover College in Indiana, Drew spent his two years there fiercely pursuing his academic, interpersonal and spiritual goals. Though he participated in a broad range of offerings, his greatest energy went to social activism. Drew was the President of People for Peace, a member of Love Out Loud and International Club, and a devoted International Pal.
Study abroad took Drew on a service project to Calnali, Mexico in February 2004. That summer he arranged a job teaching English to 4th and 7th graders in Istanbul, Turkey. By spring semester 2005 Drew was one of only two Americans studying at the Universitie Castille de la Mancha in Ciudad Real, Spain. At the time of his death he was fluent in English and Spanish, conversational in French, and had learned quite a lot of Turkish and Italian. You'd never know this young man began his school career a year late due to a speech impediment!
Drew was killed when an unconscious driver hit his bicycle August 21, 2005, less than a month after his 21st birthday.  His last hours were spent at his beloved alma mater playing tennis with his best friend. He is buried adjacent to those Grayslake North tennis courts.
Drew wanted to change the world one person at a time. This scholarship is a small attempt toward fulfilling his dream of doing just that.
The Drew Chapin Memorial Jazz Jam and Concert, hosted by the Grayslake Park District, raises funds for the Drew Chapin Scholarship for Change. At this annual event in late summer, community members, area professional musicians, and students from the Grayslake Jazz Combo Workshop perform and improvise over jazz tunes. The Drew Chapin Memorial Trio, with Bill Chapin on keyboard, Paul Nielsen on bass, and Dan Prowse on drums, anchor the rhythm section; but before the night is over many performers grace the stage. In recent years, more than 40 performers joined in to improvise over the closing tune, Watermelon Man.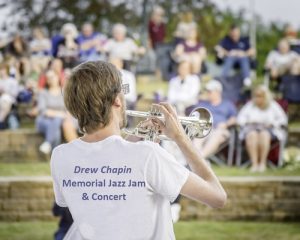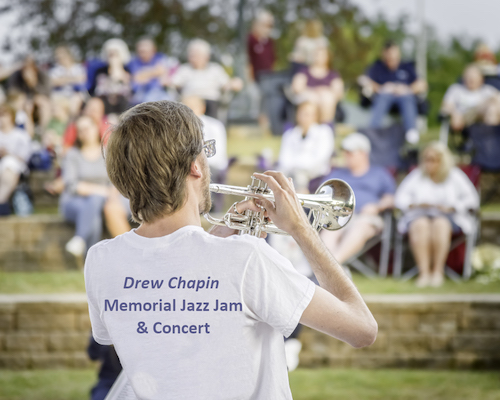 We are proud to list the following recipients of the Drew Chapin Memorial Scholarship for Change. All of these young people exemplify the qualities that Drew pursued in his life.
2006: Lorena Martinez and Dan Yadron

2007: Maureen Nasir

2008: Chesley Waggoner

2009: Zusanna Skiwot

2011: Kathryn Dickson

2012: Elizabeth Arnold

2013: Jonelyn Gabriel

2014: Steven Anderson

2015: Jennifer Barreca

2015: Addison Brown

2016: Zoe Schnitzler

2017: Rachel Karl

2018: Grace Fick
2019: Maya Roytman
2020: Lilia Begin
2020: Sylvia Kendera
2021: Lillian Bak