Gig and Recordings
Chapin Jazz X-tet performs for a range of venues. Below are a few. Enjoy.
X=4 Quartet at 129 Center Cut
The Chapin Jazz X-tet in its quartet format performs monthly at 129 Center Cut, Grayslake's great steak house. On a typical night the band will play requests, originals, and favorite tunes by Herbie Hancock, Dave Brubeck, Duke Ellington, and Miles Davis.
X=4 Performers: Bill Chapin–piano | Paul Nielsen–bass | Joe Ott–tenor sax | Jim Richardson–drums |
129 Center Cut is at 129 Center St, Grayslake, IL. Call (847) 986-6872 for reservations.
See the Calendar for dates.
Check out our recording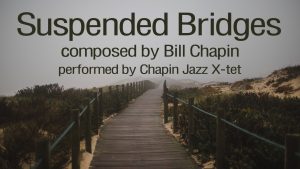 Chapin Jazz X-tet has been busy recording a Chapin original, Suspended Bridges, that explores life during the pandemic. Thanks to bassist Jim Batson and drummer Jim Richardson for joining me on this journey of composing, recording, mixing, and video editing.
If you'd like to learn more about the technical details and our process, click here.
College of Lake County Jazz Ensemble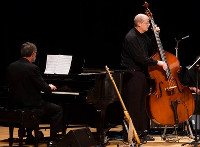 Bill is grateful for so many educationally rich and musically significant experiences he has enjoyed while playing with the CLC jazz ensembles and combos. From his two years with the band in the 80's when he was first studying jazz, to playing bass with the CLC combo, to his more recent stint while working to up his playing game, the college band offered challenging music, the opportunity to play with top notch jazz musicians, and the thrill of performing with guest artists who have achieved the highest level in jazz performance. Here's to more great performances after the pandemic.
Chapin Jazz X-tet Plays Green Bay Trail Day
The X-tet had a blast performing for the 2021 Green Bay Trail Day in Glencoe. Birds, bicyclists, and beboppers stopped in to hear the band.
Chapin Jazz X-tet at Tudor Wine Bar
Chapin Jazz X-tet enjoyed a few evenings at Tudor Wine Bar. Bill was joined by bassist Jim Batson and drummer Isi Perez.
Bill's Friday Noon Mini Concerts
During the early days of the pandemic I did some live online concerts with virtual guest artists on FaceBook. Check the link below to listen.
Chapin Jazz X-tet at the Lake House
The X-tet performed weekly at the Lake House Restaurant in Lake Bluff for six years. The restaurant has been sold and demolished, so we won't be back there. What wonderful times we had there from 2014 to 2020.
In the fall of 2017, the band was recorded live. Hear that album here.
Jim Jacobs Duo/Trio
Bill enjoyed nearly seven years of performing at Deerfield Italian Kitchen with trumpeter Jim Jacobs.
Your Event Here

We are also available to play for corporate or private events, in your home, or at your venue.
Want just the jazz pianist? Bill plays solo piano, too.
Interested in booking Bill or the X-tet? Click here to send us an email.

Whether you want swing, blues, or Latin jazz, the X-tet finds the groove you love. Playing in formats from one to six pieces, the X-tet provides the sleek sound of solo piano, the pulse of a trio, or the harmonies of a full combo with saxophone, trumpet and trombone. The X-tet is perfect for upscale dining and lounges, classy cocktail hours and receptions, fundraisers and galas, and corporate events. Whether we play quietly in the background or lay down our musical souls from the front of the stage — the X-tet has the formula for great jazz.
BOOK THE X-TET
Please fill out the form below to book the Bill Chapin Jazz X-tet for your event.