Who: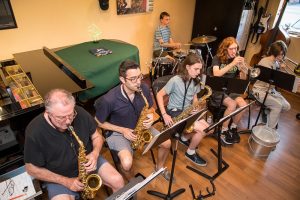 Musicians entering grades 7 through adult, who can read music, and who want to advance their playing and improvisational skills are welcome to register. Past participants have played saxophone, clarinet, trumpet, trombone, flute, vibes, guitar, bass, piano, voice, and drums; but one can improvise jazz on any instrument. We are always looking for bassists and drummers!
What
: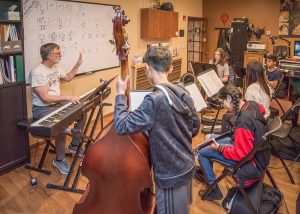 A 5-session workshop over 2 weeks where students learn improvisational skills by playing in a jazz combo with similarly skilled peers. The workshop consists of 5 combo sessions, 90 minutes each, and one concert. 
Area students have been learning about jazz improvisation in a combo setting through the Grayslake Jazz Combo Workshop since the summer of 2001.
When
: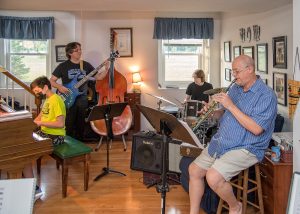 Sessions organized by ability level will be offered on the dates and times listed below. When registering, students will request a combo session and a level. Learn more about Combo Levels
All students who are new to the workshop will participate in an in-person Audition the afternoon of Saturday, May 20th to help students learn about the program and to help our faculty create the best learning environment possible for each combo. For audition details, see our Placement Auditions page.
2023 Combo Sessions*
Session 1
Sunday-Tuesday-Thursday- Combo 7-8:30 pm
Sun June 4, Tues June 6, Thur June 8, Sun June 11, & Tues June 13
Concert: Friday, June 16, 7 pm (at Ivanhoe Congregational Church)
---
Monday-Wednesday-Friday Combo, 7-8:30
Mon June 5, Wed June 7, Fri June 9, Mon June 12, & Wed June 14
Concert: Friday, June 16, 7 pm (at Ivanhoe Congregational Church)

……………………………………..
Session 2
Sunday-Tuesday-Thursday Combo, 7:00-8:30 pm
Sun June 18, Tues June 20, Thurs June  22, Sun June 25, & Tues June 27
Concert: Friday, June 30, 7 pm (at Ivanhoe Congregational Church)
---
Monday-Wednesday-Friday Combo, 7:00-8:30 pm
Mon June 19, Wed June 21, Fri June 21, Mon June 26, & Wed June 28
Concert: Friday, June 30, 7 pm (at Ivanhoe Congregational Church)
*Note: if a session does not fill, we will place a student in his/her 2nd choice, entered during registration.
Where: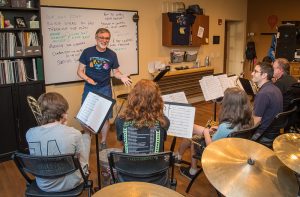 Sessions are held at…
Chapin Jazz Studio, 146 Center St., Suite 4, Grayslake Get Directions
The Rails Jazz Club (Paul Nielsen residence music room) at 93 Railroad Av., Grayslake. Get Directions
Concerts are held at Ivanhoe Congregational Church Get Directions
How:
On the registration form students should indicate their 1st and 2nd choice for a combo session. This allows our faculty to maximize correct placement level at the greatest convenience for all students who register. See Combo Levels
Except for situations where we need to balance combo instrumentation, positions in combos will be filled on a first-come, first-served basis (according to a student's date and time of registration). We will maintain a waiting list if necessary.
If a session fills, we will offer the student a slot in another combo, if possible, or offer an additional session, if we are able.
When multiple rhythm section players (i.e., drums, piano) are assigned to the same combo, students will switch between drum set and auxiliary percussion, or piano and keyboard, and will alternate their positions on different tunes.
Our experience has been that students advance regardless of the combo level they are assigned.
Why: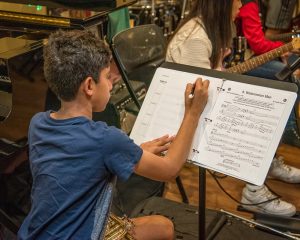 To gain valuable experience playing in a combo, to learn music theory, to get lots of time to improvise in a low-pressure setting, to learn the higher level of professionalism required to perform in concerts, and to have fun and groove to the beat of the most American form of music–jazz.
Topics we cover: Scales and patterns for improvisation; jazz theory beginning to advanced; introductions and endings; trading fours; soloing; learning jazz styles such as swing, latin, waltz, blues, ballads; playing with proper time and feel and, of course, jamming on jazz tunes.
Typical Combo Session: Setup and warm-up–10 minutes; improv on the blues–20 minutes; ear training games and exercises–10 minutes; break–5 minutes; jazz theory–10 minutes; rehearsal of tunes and jamming–60 minutes; assignments and review–5 minutes. Often, a snack is provided.
Faculty: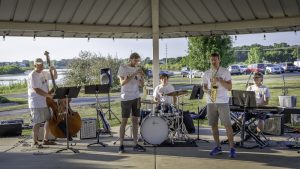 All of our faculty members are accomplished jazz musicians, fluent improvisers, and passionate jazz educators. Learn more about our faculty on our faculty page, linked below.
Cost
: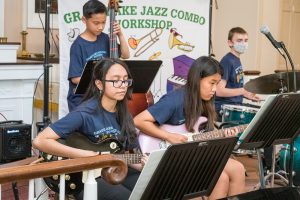 $210 per session
Students may not participate unless payment is made in full by the first rehearsal. Cost includes a workshop T-shirt, instructional materials, photocopying, teaching and concert facility rental, and all administrative costs.
Note: We will not pro-rate the cost for missed rehearsals.
Registration: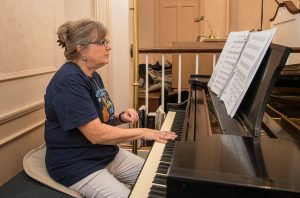 Please complete online registration here. Here, you can pay by credit card or mail your form and check to Bill Chapin-Chapin Jazz Studio, 146 Center St, Suite 4, Grayslake, IL 60030. Make checks payable to Chapin Jazz Studio.